myBTRmoney
You saw the advertisement and the concept made sense, but you have a few questions of us before you agree to the service. We've compiled a list of questions that we've been asked in order to guide your research of Mobile Banking. If you still have questions, email us at banker@bankoftravelersrest.com.
First, we're asked: What is myBTRmoney?
myBTRmoney puts Bank of Travelers Rest in the palm of your hand. That means, with your text enabled phone, you can receive alerts when items process in your account. By texting "BAL", you can receive an instant update on the current available balance in your account1. And when you have a phone with web access, myBTRmoney opens the possibilities for banking on the go. Just by accessing your myBTRmoney account, you can transfer money and schedule bills through your bill pay option2 and deposit checks. Additionally, you can use myBTRmoney to find the nearest ATM and even map it on GPS. How's that for service?
13rd party message/data rates may apply. Review your contract with your wireless provider for complete terms and conditions.
2 In order to take advantage of the bill payment option, customers must be enrolled in the bill payment feature of their online banking services offered through Bank of Travelers Rest.
For a demo, click the image below: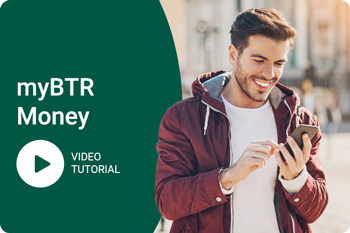 Sometimes, customers wonder what types of accounts can be accessed with
myBTRmoney ?
In order to enable the myBTRmoney feature, customers must be signed up for online banking through Bank of Travelers Rest. Accounts that are accessible through online banking will be available in myBTRmoney. Standard accounts that customers see are savings, checking, CDs and loans.
Is there a waiting period to use myBTRmoney?
No. Once you are enrolled you are active.
How do you use the Mobile Deposit feature?
The mobile Deposit feature is easy to use and will be available to all myBTRmoney users. Click on the image below to review a demo on how to make a Mobile Deposit.
When customers know what Mobile Banking is all about, the question of security arises.
myBTRmoney is secure. The security of text banking:
Account nicknames are determined by you when you sign up for the services. That way, no actual account numbers or truncated numbers are transmitted.
Since the text is coming from us, your bank, we have no need to send personal information via text. Therefore no personal information is transmitted or asked of you.
When enabling myBTRmoney and using mobile web, security measures include:
128-bit encryption. That means we mask any sensitive information.
Each time you log on, your password is required.
Now, to sign up:
Signing up is easy. Simply download the app for myBTRmoney from the Apple Store or through Google Play. Sign in with Online Banking User ID and Password.